Bericht Horse and Fun Welver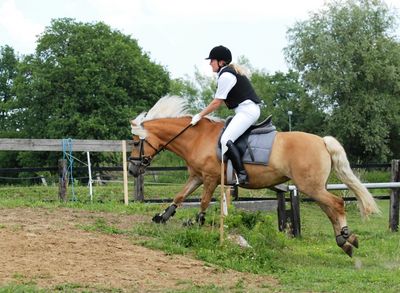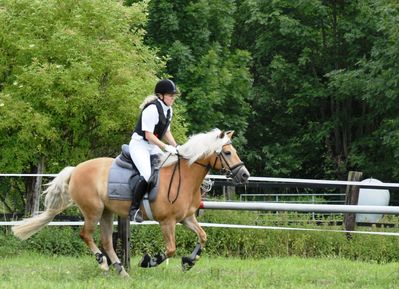 Dieses Jahr habe ich über Pfingsten das erste Mal am Horse and Fun Welver teilgenommen. Es werden über 2 Tage verteilt viele unterschiedliche Prüfungen angeboten.
Damit sich die Anreise von 160 km auch lohnt, habe ich die max. 10 Starts genannt. Ich bin am Samstagmorgen losgefahren, da meine erste Prüfung mittags begann. Für die Nacht hatte ich eine schöne Paddockbox reserviert.
Nach der Ankunft habe ich zunächst den weiten Weg vom Hängerplatz zur Meldestelle gesucht. Dort schnell einige Prüfungen umgenannt, da ich leider nicht wie geplant mit Mikky starten konnte, sondern mit Amy.
Recht schnell begann dann auch die erste Prüfung: Mikadorallye. Hierbei galt es, einige Stangenhindernisse (Stangen-L, Querschlag, Windfang etc.) möglichst schnell und ohne Fallen der Bälle zu überwinden. Amy hat sich sehr artig angestellt und hat auch immer schön die Beine gehoben. Ein Ball ist leider heruntergefallen. Das gab 5 Strafsekunden, aber es hat trotzdem noch für den Sieg gereicht. Das hat mich sehr gefreut, weil es eigentlich das erste Mal war, dass ich mit Amy solch eine Prüfung geritten bin.
Es folgten nun einige Teamprüfungen:
Pony-Express: Der erste Reiter (Amy und ich) mussten ein Quatermile-Rennen reiten, dann die Tasche an den 2. Reiter übergeben. Der 2. Reiter musste einen kleinen Geländeparcours mit Sprüngen und Wasserdurchritt absolvieren.
Speed-Western-Prüfung: Der erste Reiter (Amy und ich) mussten ein Barrel-Race reiten und dann die Gerte an den 2. Reiter übergeben, dieser musste ein Quatermile-Rennen reiten.
Jump-and-Run: Hier war ich der Läufer, und ich musste einen echt anspruchsvollen Parcours (inkl. Oxer) zu Fuß überwinden. Zum Glück war in unserem Team die Reiterin sehr schnell.
Außerdem habe noch das Lope-Over-Event an diesem Tag genannt. Es wurden zu Beginn 3 Stangen im Abstand von 2 m gelegt und diese mussten im Galopp überwunden werden. Das Pferd durfte max. einen Trabtritt zwischendurch machen, und es durfte kein Ball herunterfallen. Wer dies im max. 2. Versuch nicht geschafft hat, war ausgeschieden. Wer es geschafft hatte, kam in die nächste Runde. Bei jeder Runde kam eine Stange hinzu oder es wurden anderen Schwierigkeiten eingebaut. Auch hier zeigte Amy ihre Stärke und wir wurden 2.
Zum Abschluss an diesem Tag ritt ich noch das Spiel "Kuniberts Rache" mit. Dabei mussten mit einem Schwert im Slalom Bälle runter geschlagen werden und im Vorbeireiten Ringe aufgespießt werden.
Nach diesen doch vielen Prüfungen war Amy schon recht müde, und ich brachte sie in ihre vorbereitete Paddockbox. In der Nachbarbox stand die Stute meiner Freundin und die beiden verbrachten die ganze Nacht zusammen Kopf an Kopf auf ihren aneinandergrenzenden Paddocks. In den Boxen konnten sie sich leider nicht sehen, da diese hoch gemauert waren. So bekamen die beiden Mädels ihr Futter draußen.
Am nächsten Morgen war ich früh am Stall, da es leider sehr zeitig weiterging.
Der 2. Tag startete mit der E-Kür. Amy wurde schick gemacht, und ich fing an abzureiten. Von dem anstrengenden Tag merkte man kaum etwas, und Amy war fleißig dabei. Ich war 2. Starter und war sehr zufrieden mit unserer Vorstellung. Der Richter fand die Vorstellung leider nicht ganz so gelungen und daher fiel die Wertnote nicht so gut aus wie erwartet.
Als nächstes stand ein Geländereiter-Wettbewerb an. Ich bin mit Amy bisher noch kein festes Hindernis gesprungen, gehe jedoch regelmäßig normale Springstunde und so versuchten wir unser Glück. Amy hat sich wirklich sehr gut benommen und hat die Sprünge ohne Zögern bewältigt. Lediglich den Einsprung ins Wasser mussten wir im Schritt bewältigen. Ich war super stolz und freute mich sehr über unsere 7,0!
Weitere Prüfungen an diesem Tag waren das Barrel-Race, die Keyhole-Prüfung und das Quartemile-Rennen.
Nach diesem Prüfungen durfte Amy noch kurz in der Paddockbox verschnaufen, während ich das ganze Zubehör (unglaublich, was man für 2 Turniertage alles mitschleppt) im Auto verstaute. Anschließend machten wir uns auf den doch recht langen Heimweg.
Ich war erst gegen 22:30 zu Hause, und am nächsten Tag ging es auch schon wieder nach Düsseldorf zum Ringstechen. Es gab also nicht viel Zeit zum Verschnaufen!
Dennoch kann ich diese Veranstaltung nur wärmstens empfehlen. Die Stimmung war gut, das Team vor Ort sehr nett, und die Prüfungen haben alle sehr viel Spaß gemacht! Im nächsten Jahre werde ich hoffentlich wieder dabei sein können!
Arissa Held